So far, I have made four short films, two of them in german, one without dialogue and my latest film ".tibbar" is my first short in english. It was the first time I tried to make a comedy movie, which has been a great challenge for me, because I never thought I'd be good at making a funny film. To my surprise I am happy with the result and look forward to trying out different genres
A lot of my inspiration comes from directors like Paul Greengrass , who approaches movies in a more realistic way, with a style similar to documentaries. In general I also love movies like "The Neon Demon" by Nicolas Winding Refn, which are visually stunning.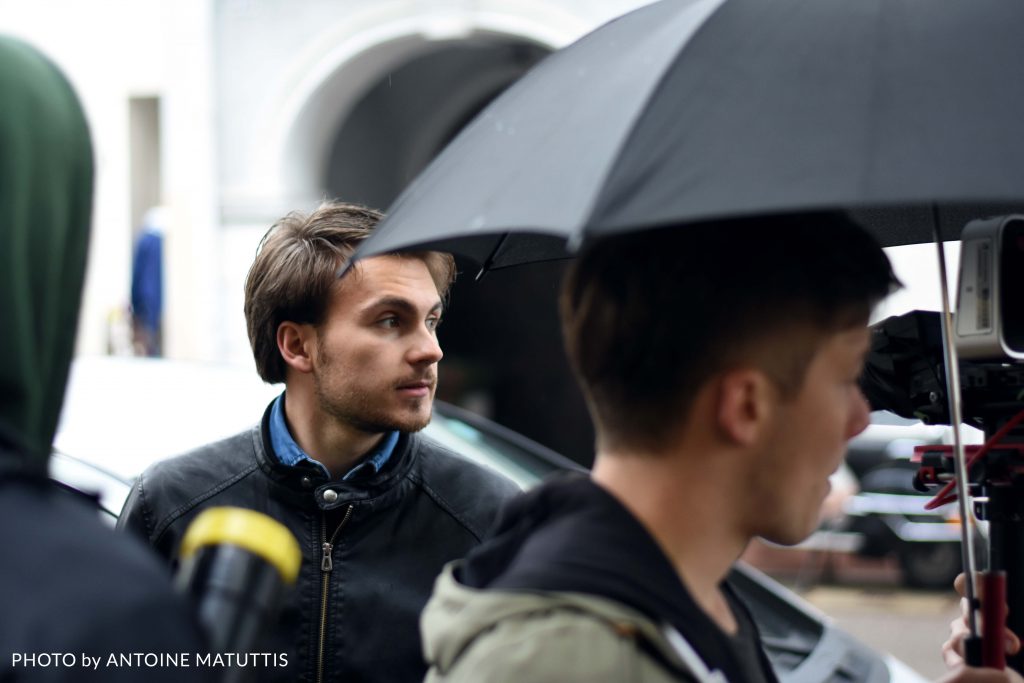 Here is a list of the things that I have created or was helping to create. But you can also see on which projects I am currently working on.
MY FILMS
2019
Alexa Blitz (Movie / Web series) – Producer + Director + Screenwriter
Wendy (Short film) – Producer + Director + Screenwriter
2018
.tibbar (Short film) – Producer + Director + Screenwriter
Project D (Short Documentary) – Director (with Sejad Ademovic)
2017
Bitte benehmt euch (Short film) – Producer + Director + Screenwriter (with Sejad Ademovic)
Rust (Short film) – Director + Actor + Composer (with Katharina Hauser)
The Best For You (Short film) – Producer + Director + Screenwriter
OTHER FILM PROJECTS I TOOK PART IN
2018
BLCKJNGE (Short film by Sejad Ademovic) – Cinematographer / DOP
Im Rauschen (Short film by Simon Schneckenburger) – 2nd assistant to the director
2017
Violett (Short film by Alexander Weigand) –2nd assistant to the director
2016
Riverside (Short film by Heinrich Hummel) – Creative advice
2014
Single Night (Short film by Heinrich Hummel) – Sound + Assistant editor

SMALL VIDEO PROJECTS
2018
Video for "Staufener Stadtgeschichten 2018" (Andreas Müller) – Camera & Editing

Fanmade: STAR WARS Music Video (Performance by Anja-Maria Howe) –Camera & Editing
Video for "Kijong-Dong" (Performance by Impala / Karolin Stächele) – Camera & Editing
Video for "Oberflächenspannung" (Performance by Lea Torcelli) – Camera & Editing
2015
Car Crash (Music video) – Director
Much Money (Music video) – Director
2014
Schicksal Nicht (Music video) – Creator (with Martin Hug & Wanja Nöthig)
On The Road (Music video) – Creator (with Martin Hug & Wanja Nöthig)
MY PHOTOGRAPHY
2018
Photoshooting: Red Light – Photographer
Photoshooting: Amanda Wine – Drag Queen (Part One & Part Two) – Photographer
Photoshooting: Dominik Berberich (Part One & Part Two) – Photographer

2017
Photoshooting: Francesco Forini – Photographer

Photoshooting: Katharina Hauser (Part One & Part Two) – Photographer

2016
Photoshooting: Luisa Golubev (Part One & Part Two) – Photographer
MY MUSIC
2019
I Keep Walking (Song) – Singer-Songwriter
2017
Noëlle (Song) – Singer-Songwriter (with Vocals by Laura Schmid and Lyrics by Sejad Ademovic)
2016
Hollywood (Song) – Singer-Songwriter
2015
Smile (Music album) – Singer-Songwriter
2014
On The Road (Music album) – Singer-Songwriter
SUMMARY – Crafts & Fields
DIRECTING & PRODUCING short films, music videos and other short videos (.tibbar ; Rust ; Bitte benehmt euch ; The Best For You ; … )

SCREENPLAY WRITING (All my short films and some others I haven't shot yet)
WORKING AS A DOP AND CAMERA OPERATOR (in short films: "BLCKJUNGE" by Sejad Ademaj, "Rust", "The Best For You")
VIDEO EDITING(All my short films & most of my short videos and music videos)
COLOR GRADING ("Rust", "The Best For You", "Fanmade Star Wars Video")
COMPOSING FILM MUSIC (".tibbar", "Rust", "The Best For You" with Laura Schmidt and Johannes Lackner)
ACTING at least a little bit in a short film and theatre (Rust)

RECORDING, EDITING AND MIXING SOUND especially for short films
(".tibbar" [only sound editing], "The Best For You", "Single Night" by Heinrich Hummel… )

CARTOON & BASIC 2D ANIMATION (Adobe After Effects)
PHOTOGRAPHY (nature, urban, abstract and portrait)
IMAGE EDITING & GRAPHIC DESIGN (Adobe Photoshop, Lightroom, Illustrator)

PAINTING & DRAWING (since I was a kid)
COMPOSING GUITAR MUSIC aswell as singing
BASIC WEB DESIGN (WordPress, Klynt)
THINGS I WANNA TRY OUT:

working in the lighting department
voice acting
modeling
hosting a show / event
composing electronic music
making a graphic novel